New Mexico Telegram » Featured, Open Government, Roundhouse » 12 things that you can't get from legislators emails through IPRA
Legislators are scared of personal information and personal conversations being released through the Inspection of Public Records Act if someone requests emails from the legislator through the open records law.
However, IPRA only applies to public business. So if the emails do not have any connection to public business, they would not be subject to IPRA. If the email involves both information that is public record and information that is exempt from IPRA, the exempt information can be redacted.
I thought that I would try to ease some legislators' minds. Here are a list of things in emails that would not be subject to IPRA.
Shopping lists
If you email a shopping list to your spouse to get later that evening? This would not be a public record.

Photo via ninefish/Flickr
Family pictures
Pictures of your wife and kids are not public records. So they are not subject to IPRA.

Photo via Beverly & Pack/Flickr
Kid's report card
Legislators are probably justifiably proud of their children's grades (well, depending on those grades). So they might take a picture and send it to their family. Or they might just email that little Johnny got an 'A' in biology. These aren't related to public business and so are not subject to IPRA.

Photo via rutlo/Flickr
Golf plans
Some legislators might want to go golfing after the day's business is done (or during the day's business for some Republicans during redistricting) and might email their dentist or brother-in-law looking for a tee time. These plans are not public records, and so are not subject to IPRA.

Photo via Companygolflessons/Flickr
Sexts
Open government advocates like the New Mexico Foundation for Open Government say that text messages related to public business are subject to IPRA. Again, there is the operative phrase, "related to public business." So if you send a racy text message to your spouse? That isn't public business and so not subject to IPRA. The same goes for racy emails.

Photo via kiwanja/Flickr
Chain emails
Everyone gets chain emails. Usually from a well-intentioned grandmother or aunt who doesn't understand that not everything you read on the internet is true. These emails are not subject to IPRA, as they are not related to public business.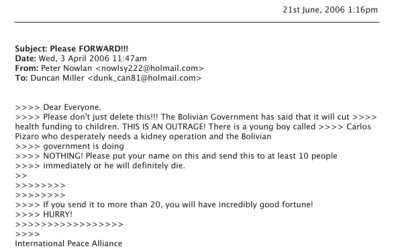 Dinner plans
If a legislator is meeting a friend at the Bull Ring or another restaurant to unwind after a long day of caucuses and committee hearings… that's not a public record. That is just making dinner plans with a friend.

Photo by HarryLawford/Flickr
Things related to your career
New Mexico legislators are not paid legislators — they are part-time, so they don't get a salary. So the rest of the year, those who are not retired have other jobs that they go to every day to make ends meet. So if an attorney who is a legislator has emails related to a case it would still be protected by attorney-client privilege. And so they would not be subject to IPRA.

Photo by umjanedoan/Flickr
Bank statements
If you get your bank statements emailed (is this something people do?) to you then do you have to worry about pesky reporters getting a hold of them? Nope. These are not related to public business. And so are not subject to IPRA.

Photo by Casey Serin/Flickr
Amazon receipts
These days we all go online to shop for certain things. Legislators are, presumably, no different. And they probably don't want everyone to see what they paid for their Muscle Milk or what eBook they purchased to pass the time. Luckily for those privacy-minded legislators, these purchases are not public business, so it would not be subject to IPRA.

Photo by edkohler/Flickr
Information on caucuses
Democrats and Republicans in each chamber can, and often do, go into caucus to discuss legislation behind closed doors. They can discuss strategy on voting and other such issues. Information related to caucuses cannot be requested through IPRA.

Photo by ttarasiuk/Flickr
OKCupid notifications
If you are a legislator who is looking for a date, you don't have to worry about notification emails becoming public. AGain, becuase they are not related to public business, they are not subject to IPRA.

Photo by protomech/Flickr
Filed under: Featured, Open Government, Roundhouse · Tags: 2013 Legislative SEssion, Inspection of Public Records Act